09.09.2019
Royal Reesink takes a nice step in the west of the Netherlands with Meij de Bie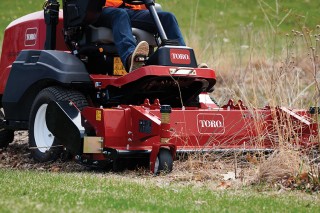 B. van der Meij de Bie B.V. and Meij de Bie Noord B.V. ('Meij de Bie') have been successful dealer companies for the Royal Reesink subsidiaries Jean Heybroek, Stierman De Leeuw and Meerman Group for many years and are now part of the Reesink Turfcare division. Meij de Bie has branches in Hoofddorp, Alkmaar and Hillegom, and has been a household name in the turfcare sector for more than 50 years. 
Lex van der Meij de Bie, director of Meij de Bie: "Royal Reesink is able to relieve us in the field of marketing and communication, recruitment and training of personnel, financial and legal issues and IT services. This gives us the opportunity to grow and focus on what we are good at, namely ensuring that the end user gets the best possible service".  
Joining Reesink Turfcare not only guarantees continuity, but also offers Meij de Bie more opportunities in the field of large tenders, sustainable projects and leasing and financing possibilities. Roon Hylkema, divisional director Reesink Turfcare: "By joining forces, we are creating a solid foundation to build on and to take on new challenges within our existing markets". 
"It is a strategic reinforcement for the Reesink Turfcare division and it gives us the opportunity to better understand and support the end users. The professionalism and craftsmanship, and the fact that Lex van der Meij de Bie remains responsible as a co-shareholder for many years to come, means that we confidently enter into the cooperation with Meij de Bie", says Gerrit van der Scheer, CEO Royal Reesink.  
The press release is published in Dutch and English. In case of conflict between the Dutch and English versions, the Dutch version shall prevail.