01.02.2022
Garden and park companies Van Bergen & Meij de Bie join forces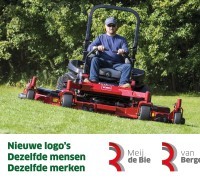 As of 1 February, both companies have joined forces to be able to serve their customers even better.
They proudly present their new logos to strengthen their partnership. The R symbolises the bond with parent company Royal Reesink.
Both companies have been a household name in the garden and park sector in the north of the Netherlands for many years. This will be further developed together with familiar faces and strong brands such as Stihl, Husqvarna, Kubota, Toro, Honda, EGO Power+, Eliet and Holder.
Van Bergen is located in Haren (NL) and Meij de Bie has locations in Hoofddorp (NL), Alkmaar (NL) and Hillegom (NL). The companies are managed by Jaap Kalfsbeek, Director Reesink Turfcare Retail North Netherlands.